Upcoming Events
Pet Supply Drive March 1 – 31.
Donations may be brought to our lobby, during business hours. Click for list of items most needed.
Thursday & Friday, March 11 & 12: Member Appreciation Days
We invite you to join us, for Member Appreciation Days. This is our opportunity to thank you for your continued business and all your help, and support in our fundraising efforts, throughout the year.
Annual Meeting
We are hosting our Annual Meeting, at Gardiner FCU, on April 28. Doors open at 5:15 pm, meeting begins at 5:30.
We will be holding elections for two seats on our Board. Incumbents, Connie Greenleaf & Deb Couture, are running for re-election. Board member terms are three years. If you would like to run for one of these positions, please contact one of the members of our nominating committee, via email. Due to current mandates, this annual meeting will consist of the business meeting and election of officers only. Masks will be required and we will adhere to all social distancing guidelines and capacity limits.
NOMINATING COMMITTEE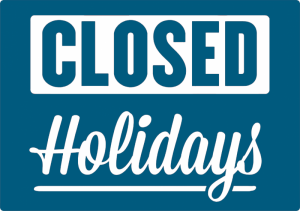 2021 Holiday Hours & Closures
Friday, January 1, 2021: New Years Day

Monday, January 18: Martin Luther King Jr. Day

Monday, February 15: Presidents Day

Monday, April 19: Patriots Day

Monday, May 31: Memorial Day

Monday, July 5: In Observance of Independence Day, which falls on Sunday.

Monday, September 6: Labor Day

Monday, October 11: Columbus / Indigenous Peoples Day

Thursday, November 11: Veterans Day

Thursday, November 25: Thanksgiving

Friday, December 24
Closing at NOON: Christmas Eve
Thursday, December 31
Closing at 3 PM: New Years Eve