Thank you to all who supported our many fundraisers throughout 2019. Thanks also to those who granted the wishes of area children, on our giving tree and through our toy drive. We are truly blessed to have such generous CU members, community members & friends.
February 3 – 28, we will be selling Hearts for Ending Hunger for $1 each. All proceeds benefit Ending Hunger 
Thursday, February 13 will be our annual Chili Chowder Day. Buy pints of homemade soups, stews, chowders & more. All proceeds benefit Ending Hunger.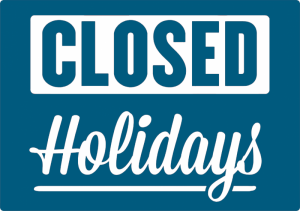 2020 Holiday Hours & Closures
Monday, January 20: Martin Luther King Jr. Day
Monday, February 17: Presidents Day
Monday, April 20: Patriots Day
Monday, May 25: Memorial Day
Monday, September 7: Labor Day
Monday, October 12: Columbus / Indigenous Peoples Day
Wednesday, November 11: Veterans Day
Thursday, November 26: Thanksgiving
Thursday, December 24 – Closing at NOON: Christmas Eve
Friday, December 25: Christmas Day
Thursday, December 31 – Closing at 3 PM: New Years Eve
Friday, January 1, 2021: New Years Day
Please note we will not be taking a day off for July 4th, as it falls on a Saturday this year. Thank you.