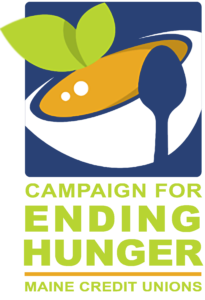 Since 1990, the Maine Credit Union movement has raised over $10 Million to help end hunger in Maine. Through the Maine Credit Unions' Campaign for Ending Hunger, thousands of Maine people and families have been touched in every county in the State.
Gardiner Federal Credit Union has raised and donated well over $100,000, all of which has helped area food pantries and agencies who help feed local families with food insecurities. We raise funds to help end hunger throughout the year. Some of our efforts and events include: *50/50 Raffles *Chili Chowder Day *Bake Sales *Annual Yard Sale *Spaghetti Dinner & Auction*
You have the opportunity to contribute to this great cause and make a difference. 100% of all funds raised through this Campaign stay in Maine and go directly to end hunger in Maine!
The Campaign is an official 501 (c) (3) charity, which means that contributions are tax-deductible.