Tuesday, September 18, 2018, at 5:30 PM
Members & Interested Family Members are Welcome!
Seating is limited, so registration is required. Registration deadline September 12.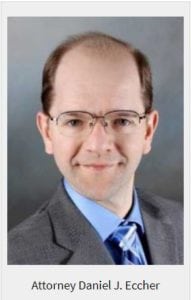 Estate planning is an important part of life planning. Too often people procrastinate, not wanting to face the inevitable. We plan to tackle topics such as Estate Planning with Advanced Health Care Directives (aka, Living Wills) and Powers of Attorney, with the help of our presenter Dan Eccher. Dan is an attorney with years of experience with a Maine firm focusing on Elder Law and Estates.
Daniel J. Eccher, Esq. is the Managing Shareholder at Levey, Wagley, Putman & Eccher, P.A., in Winthrop, Maine. Dan's favorite problem to solve is helping clients figure out how to afford long-term care while having something left for their family.
He also enjoys helping couples establish estate plans, such that their children will be provided some inheritance upon their passing.