Refinancing your loans, could be your key
to lower payments and could put money in your pocket!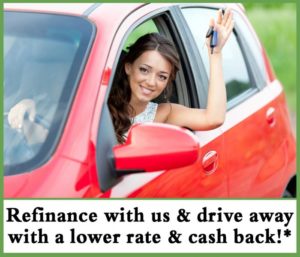 Have you financed vehicles, ATVS, campers, boats, motorcycles or personal loans, with other lenders? If so, you owe it to yourself, to see if we can beat their rates and save you money.  You may be eligible to receive a lower rate and up to $150 cash back, when you refinance your loan with GFCU.
Features of this promotion include:
– Rates as low as 2.50% APR*
– Receive .25% off your current rate**
– Flexible terms
– Quick and easy application process
– Cash back incentive for refinanced loans
– Waived Maine State title fee & LSI fee
Receive $50
For a loan refinanced between
$1,000 – $9,999.99
Receive $100
For a loan refinanced between
$10,000 – $24,999.99
Receive $150
For a loan refinanced over $25,000
Not yet a member?  Chances are you qualify.
Click here to find out.
If you would like to refinance your loan, please fill out the survey,
below, and a Gardiner Federal Credit Union Loan Officer
will contact and assist you with your loan.
*APR=Annual Percentage Rate.
Your actual rate will be determined by your credit history and the term of the loan.
The rate featured is for qualified borrowers. Membership eligibility required.
Rate subject to change without notice.
**Offer available for consumer loans for a limited time only.
Home equity, mortgages and existing Gardiner FCU Loans are not eligible.  
New money only. Some restrictions may apply.